How to Rock Your Smart Phone Videos
In one of my blogs titled "A Sea of Cell Phones" I noted my reluctance in using cell phones to record concerts mainly because of the unflattering sound. When it comes to your band, smartphone videos can make a great demo for fans and promoters given some care is taken in getting the best audio recording possible. The video quality of smartphones is astounding compared to just a few years ago but your video will stand out with a punchy soundtrack.
Understand that this is no substitute for hiring a professional videographer but budgets might not allow such a service. Take a look at the two Tim Williams videos on my samples page to see the possibilities in creative direction when hiring a professional crew. Even though my main focus is being an audio engineer I understand that we live in a highly visual world where video is king but a video of your band without a decent mix is fatiguing to listen to and difficult to stay engaged.
Here are a few tips to get you going with a bare minimum set up. I won't get too specific with setups and equipment at this point. I just want to get you to brainstorm on the possibilities with what you already might have with a couple of additions.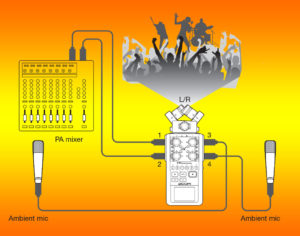 A basic set up would be to get a simple light weight tripod for under $50.00, a phone adapter for the tripod, and your phone. Some type of audio recording device such as a handheld audio recorder will be needed. I recommend a four-channel recorder for under $200.00 that has the capability of recording two external channels along with the two onboard microphones that can be used for ambient/audience mics. A stereo mix from the audio console can later be mixed with audience microphones. A bit more of an advanced setup would be to add a second camera such as a GoPro for about $300.00 and a $120.00 gimbal which will add smooth dynamic movement.
The advantage of setting up a second camera is that you can leave one camera in a fixed position covering all band members. This shot will be helpful for cutaways. The second camera can float around for different angles and focus attention on solos. When floating around with a roving camera don't stop recording during a song even if you need to change positions or rest for a moment because it will cause more steps when syncing the audio back to the video. You can always cut to the static shot of the band during unuseable sections of the roving camera. Remember that we're not trying to shoot a produced MTV video but a representation of your stage presence and sound.
The trickier part is getting a decent audio mix. Once again budget will dictate how far you can go. A multi-track recording will give you the most control being able to remix the show. At the very least a live stereo feed from the audio console mixed with a couple of audience microphones should be an enhancement over the raw camera audio.
The next step is to sync up the audio to the video. If you own a Mac then iMovie will work just fine for this application. On the PC side there are many free options for the beginner. I personally use the Adobe CC package which includes Premiere video editor plus many other products such as Photoshop and After Effects. This will probably be overkill for many but it's compatible with both Mac and Windows. Even if you don't plan on editing multiple camera angles you can use a simple application to sync the audio back to the video. Syncing is relatively simple. Visually locate a sharp attack on the waveform and slip the new audio track until both audio tracks are locked as close as possible. Mute the original camera audio and output the new video into whatever format fits your situation.
Hope this spurs some ideas as you think on how to improve the quality of your demos. Future postings will cover specific set ups, workflows and tips. Since most of us shoot video instinctively check out some beginner videography sites to take advantage of a powerful tool that we carry everyday and learn to maximize its potential. Good luck on your future gigs and feel free to reach out with any questions or comments.
Serving the San Francisco Bay Area for over 20 years.